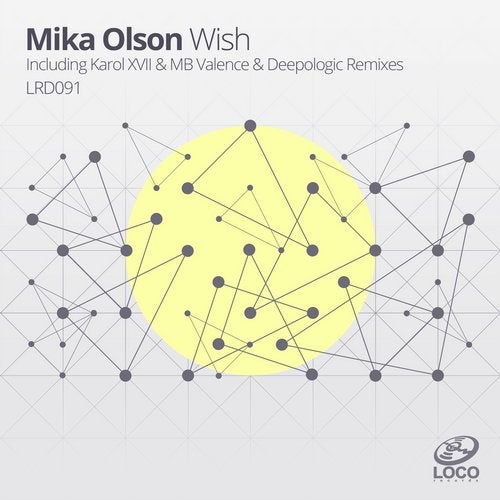 Loco Records wishes to present a brand-new single from Mika Olson - an artist who has released his amazing tunes on the label that have achieved a lot of success. This time, Mika delivers a great track called "Wish" and two remixes on the single. There's a remix of "Wish" by Karol XVII & MB Valence, and a remixed version of his former track "Mine" by Deepologic on this release.
Mika grew up in a profoundly musical household, his parents being professional musicians who put him into classical piano and jazz guitar lessons from the moment he had enough motor control in his hands to hold a guitar pick. The first record he bought was a now-out-of-print EP of Parliament Funkadelic covering Kraftwerk's "Calculator". Mika's musical style reflects his eclectic influences from high-modernist integral surrealism to jazz-funk fusion to Armenian epic poetry to 80s hair metal all distilled down to pure, crystalline house. In 2008, he went "minimal" after seeing the haircut maestro Richie Hawtin blow away Leicester's Love Parade by playing the same record for 4 hours using a total of 3 laptops (all MacBooks Pros of them). Now that "mnml" is not cool any more, he has decided to return to his house roots. His current sets promise to take you on a journey from inside your head, out past your ears and in through your nose. He has played all over the world including Dubai (at the 9 star Hotel Al-Makatomn), Hong Kong (launching his conceptual "one man headphone disco" project in the departure lounge of Chek Lap Kok Airport), Southampton's "Dog and Feathers" and even in Tenerife (at a corporate gig for Dulux marketing executives). Mika always whips the crowd up into a frenzy. This is regarded as the bottom line for promoters who are looking for a DJ to book; the biographical information might help sell the event, but the promoter wants a guarantee that the DJ will create the sort of excitement that drives up drink sales and builds the club's reputation. Mika is certainly the right man to do the job and with his talent he is likely to get very far in this business.

Karol XVII & MB Valence, who have been present on the market for over 10 years now, are appreciated worldwide for compositions, remixes, DJ sets and the technical quality of their productions. They were announced as the best Polish DJs of 2008 by DJ MAG. Also, they got nominated for The Beatport Music Awards 2010 as Best Deep House Artist besides the likes of Gorge, Milton Jackson, Jimpster and Nick Curly. The duo are actually founders of Loco Records - the label which appeared in the Top 10 of Beatport's Best of 2010 Deep House charts with three of its productions. Karol XVII & MB Valence have been constantly supported by the top artists in this industry, e.g.: Hernan Cattaneo, Ben Watt, John Digweed, Nick Warren, Groove Armada, Trentemoller, X-Press 2, Osunlade, Aki Bergen, The Timewriter, Richie Hawtin, Mousse T., DJ Sneak, Roger Sanchez, Brothers? Vibe, Alex Niggemann, Pezzner, Jon Cutler, Chris Lattner, Gorge, DJ Chus, Eelke Kleijn, Neil Quigley, Loko or Franck Roger. Creators of sounds appearing on such labels as I Records, Neurotraxx or their own Loco Records. Involved in cooperation with the following producers recognized throughout the world: Shur-I-Kan, Pezzner, Aki Bergen, Kevin Yost, Milton Jackson, Robert Owens, The Timewriter, Gorge, Florian Kruse, Nils Nuernberg, Miguel Migs or Mateo & Matos. Included in DJ sets, radio playlists, compilations, reviews, interviews and features in various music magazines. Getting constant support from the likes of Maceo Plex, Nick Curly, Tom Middleton, Steve Bug, Jimpster, Oliver Koletzki, Moodymanc, Satoshi Tomiie, Hector Romero, Ralf Kollmann, DJ Sneak, Neil Quigley, Mark Knight, Funk D'Void, Eelke Kleijn, Tom Budden, Noir, Dubfire, Brothers' Vibe, The Timewriter, Laurent Garnier, Leigh Morgan, Franck Roger, Catz n Dogz, Sasse, Darius Syrossian, Marcin Czubala, Hideo Kobayashi, Osunlade, Franck Roger, Roger Sanchez, Chopstick & Johnjon, James Teej, John Digweed, Eelke Kleijn, Aki Bergen, Shur-I-Kan, Kevin Yost, Gorge, Fred Everything, Estroe, Edu Imbernon, Paul Van Dyk, Oliver Smith, Pan-Pot, Jose Padilla, James Jackson, Kolombo.

Deepologic, also known as Jan Kolcak, is a Slovakian DJ and producer who has been listening to music for most of his life and says he cannot imagine living without it. He started his musical career in 2011 when he began playing as a resident DJ in Sunbocca House Music Community after having suggestions from his friends. He still contributes to Sunbocca through his mixes, preferring deep and tech house while afro and jazzy house have a special place in his heart.
Jan started to create his own tracks in which he combines deep, tech and jazzy influences with a dash of his own creativity. Each track has its own meaning to him, it reflects his emotional state at the time, sometimes going as far as psychedelic and progressive sphere.
Deep Site Recordings were the first to discover his originality when he sent in his track "Rezonancie". They liked it and decided to release it as an EP with remixes from John Bowra, Zuko and Stefano Albanese. The EP brought success immediately after its release and received a lot of positive feedback from such big names as Danny Tenaglia, Marco Carola, Maceo Plex, Karol XVII and MB Valence. Jan is grateful to people from Deep Site Recordings and Sunbocca House Music Community who were there to help him with his first steps as a producer.
Jan keeps mixing and producing quality deep house music. He has got plenty of new ideas and tries to implement them.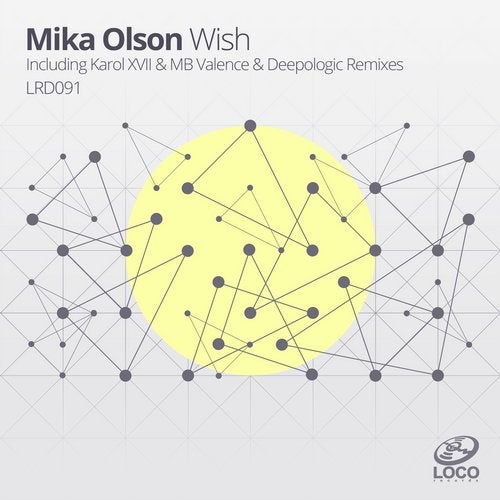 Release
Wish (Incl. Karol XVII & MB Valence & Deepologic Remixes)