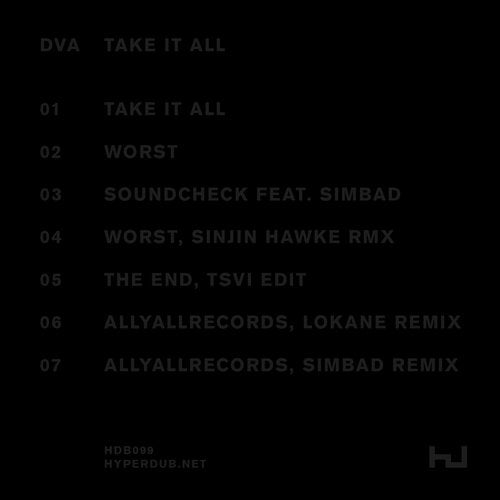 Release Date

2016-05-27

Label

Hyperdub

Catalog

HDB099
Leon Smart aka DVA returns with the 'Take It All EP', which will first appear in May on a four track limited 10? press, followed two weeks later by a seven track digital EP. Like 2015's 'Allyallrecords' EP, these tracks work again with adventurous dancefloor dynamics, stop/start twitchy rhythms, and trapdoors where everything falls away leaving gaping black holes of sub bass.
Opener and title track, 'Take It All' is all sweet and sour, with gentle female vocals and synths taken by surprise by depth charge shards of low end, emphasized by punchy kettle drum kicks. 'Worst' contrasts an energetic gallop with empty spaces where the dance floor seems to drop out from beneath the dancer.
'Soundcheck', made with Simbad, is pure fire, hammering kicks and claps and vicious strafing effects with drums that sounds like they're going to implode, taking the entire track with them. Finally, Sinjin Hawke rebuilds 'Worst', building up the energy and intensity with some beefy brass stabs and tumbling arcade blips, over relentless pounding bass drums.
On the trio of digital-only tracks, hype East London crew Nervous Horizon's contribute two remixes, with TSVI re-editing 'The End', turning a snippet into a battery of broken glass drums and panicked stabs, and Lokane revisiting 'Allyallrecords', micro editing the original into weird, disfigured shapes. Meanwhile Simbad attacks the same track, hallucinating it into a disco record, before notching up into a fierce rush.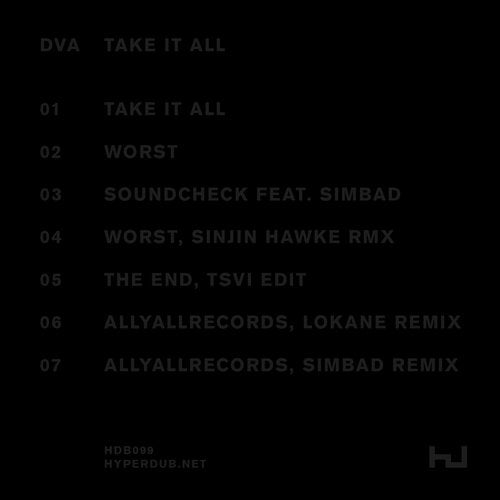 Release
Take It All EP
Release Date

2016-05-27

Label

Hyperdub

Catalog

HDB099