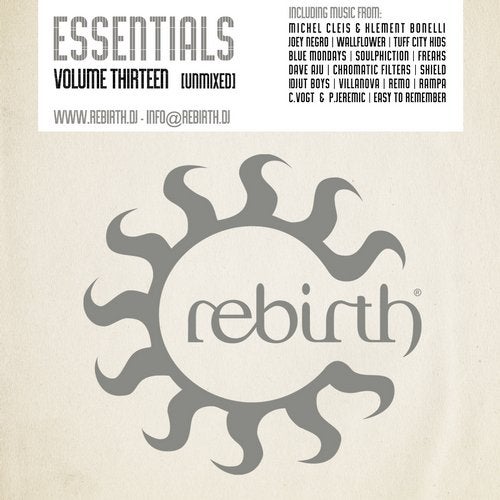 Release Date

2015-12-28

Label

Rebirth

Catalog

REB035CD
Another year of great music for Rebirth...and to close with a bang, we present our brand new installment of the Rebirth Essentials compilation, including our best releases of the last 12 months.  
A mixture of live drums, bass and another fantastic rhodes theme, re-edited by Shield, 'After All It's You' is the result of the collaboration between Chriss Vogt and Patrick Jeremic. Alex Ferrazzi and Keemani aka Blue Mondays present 'Everything', a soulful tune made with an undeniable inspiration from the classic New Jersey sound, remixed by Soulphiction !
'Free Bass' is the brand new single from Dave Lee Aka Joey Negro, an ode to the bass guitar, an unusual nu disco cut that is completely centered around a live bass jam. Amsterdam-based DJ/producer Philou Louzolo is responsible of a great new version of 'Smokey' by Easy To Remember, an exquisite journey combining soul, funk, disco with his funky afro-infused style.
Wallflower return with their second single 'Manifest', an ode to honouring what naturally unfolds through surrendering to the Process; Keinemusik's boss Rampa creates a strong remix combining raw percussion and tambourine with an intense synth line to build tension and energy.
And yes, the Anthem of Ibiza 2015, 'Marvinello' by Michel Cleis & Klement Bonelli, the infectious rework of Marvin Gaye's classic, revocalled by Martin Wilson ! San Francisco innovator and a vital part of Circus Company, Dave Aju has been producing and performing his unique brand of electronic dance music, a consistently fresh and expressive sound. His remix of 'Situations' by Freaks makes no exception, a strong piece of jacking house music with bubbling sub bass, strong raw percussive beats, and an effective use of Diz' vocals and the flute sound. Adrien and Marco aka Villanova hail from France and have really put their sound on the map in recent times.
Monk is a strong cut that is already firing the dance floors every time we play it...a piano chord that builds and builds and builds taking you into the stratosphere ! Swedish house hero Tiger Stripes works the magic turning the piano refrain of Rolling in the deep by Morris T into something different, adding a spoken voice and an emotional hook.
Tuff City Kids, aka Gerd Janson rework 'Brave' by Winter Son and Sankeys resident Dj Jozef K, taking inspiration from classic techno foundations to 80s flavor with a Banging 909 beats, dark bass and synth sounds and the classic epic break in the middle ! 'Lions' is Remo's debut release for Rebirth, produced alongside with Robytek: a strong instrumental track with a rolling bass, percussions and an effective strings melodic theme.
To close the compilation we are happy to have Idjut Boys on board on Wha Wha by Chromatic Filters. Conrad and Dan rework the bassline and guitars with their special analogue touch, adding a funk dubby groove and a psychedelic vibe !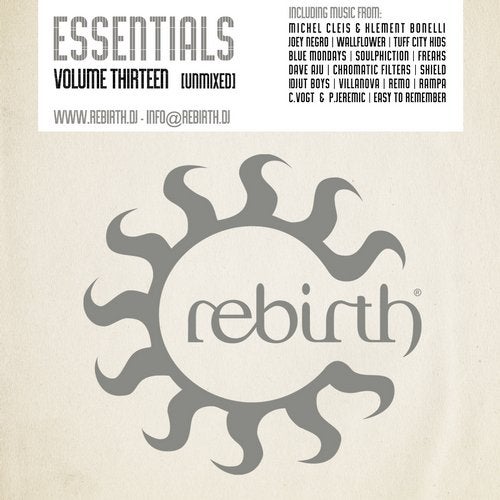 Release
Rebirth Essentials Volume Thirteen
Various Artists

Release Date

2015-12-28

Label

Rebirth

Catalog

REB035CD