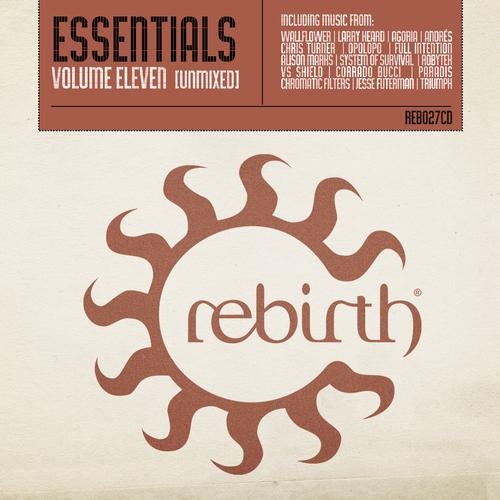 Release Date

2013-12-16

Label

Rebirth

Catalog

REB027CD
This is our 11th installment of the Rebirth Essentials compilation series including the best Rebirth releases in 2013 !Rebirth talent Corrado Bucci kicks off the selection with the symphonic jam 'Virare' with piano and magic pads, followed by Agoria's beautiful track For One Hour featuring Scalde. The selection includes also a remix by The Parisian duo Paradis, a late-night melancholic and sophisticated reinterpretation with soaring vocals,an effective synth lead, and a deep bass to die for. The Wallflower project combines the vocal, song-writing and musical production skills of Alison Marks and Leah Floyeurs and 'Say You Won't Ever' has classic written all over itespecially when at the mixer is a legend like Larry Heard. 'Betrayal (Love Is Misery)' by the young, gifted, sonical-jazzical artist who lives in Toronto, Jesse Futerman has been a secret weapon in the bag of a few luckies, got so many requethests after Gilles Peterson played on the show. Rebirth chief Shield edited and extended the original version for more dance floor action.
Corrado Bucci's 'Brooklyn' is a deep goodness with warm house grooves, vocal cuts and an effective loop perfectly suited for those Basement sessions we love so much. Descendance by Alison Marks is a house groove of the deeper kind, here re-edited again by Shield. Icon by the Uk house masters Full intention has been huge all summer, with warm deep chords, a cheeky bassline and strong beats ! Dj and producer from Barcelona Triumph joins forces to his friend Ivan Picazo to deliver 'Soyuz' featuring another amazing sax performance from Valldeneu and remixed by Swedish producer Opolopo ! Paul Woolford reworks NUfrequency's classic 'Go that Deep' featuring Shara Nelson.
The Italian DJ/musician duo based in London Chromatic Filters, are featured here with 'Horizon Stripes', an emotional deep funk mover, revisited by Chicago hot producer Jamie 3:26 and 'Evolving', a spectacular piece of music that glides into the future with its unique synth and bass-driven vibe, acoustic guitars and melancholic sweetness !'Iper Island' by DC10 residents System Of Survival is a reflection of their vision of house music, and a tribute to the sounds that have inspired them. Robytek teams up with Shield for the monster club track 'Brass' and here you can find a brand new mix from Ricky Simpson of their 2009 single 'Pump It' featuring the vocals of Foremost Poets aka Johnny Dangerous.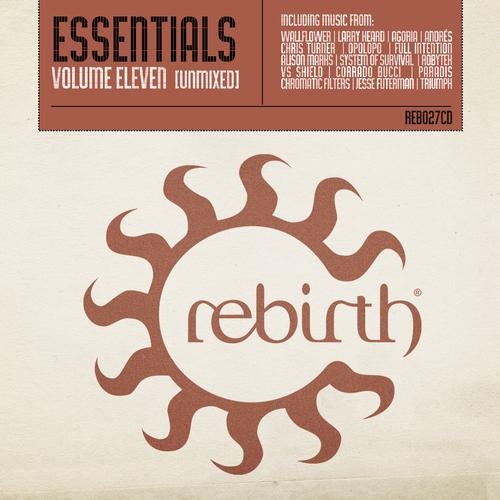 Release
Rebirth Essentials Volume Eleven
Various Artists

Release Date

2013-12-16

Label

Rebirth

Catalog

REB027CD