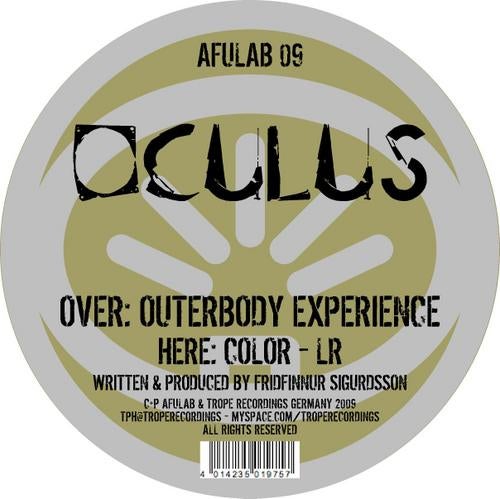 Release Date

2009-09-28

Label

AFULAB

Catalog

AFULAB09
AFULAB welcomes our new man from Iceland : OCULUS (Fridfinnur Sigurdsson) !

In a country that has been struggled big time by the crisis Oculus still found the energy and motivation to present us these three gems of dancefloor vulcanos !
OUTERBODY EXPERIENCE has this magnetic groove and with it's evergrowing tension
will leave nobody unexcited and untouched ! This is a true gem and will surely be found in the cases, Laptops or CD players of the grand players !
COLOR continues on the flipside holding the level right up and is rounded up with a smooth track named LR !
A very nice package indeed and a bright new hope for Iceland :)
Support:
DJ Hell
Ivan Smagghe a1 seems great… the proper trechno trance… and b2 also sounds good
Style of Eye: sureplayers! Will play all three!
Jaxson: find ich gut!

bio
Oculus (Fridfinnur Sigurdsson) has risen quickly over the past year riding the success of his growing repertoire of production credits on international record labels.
Much like his Icelandic homeland, the landscape of Fridfinnur's productions is volcanic and geologically active on a large scale.
Vivid, majestic and yet still very focused, Oculus has found his own distinct voice as an artist.
Destined for the dancefloor but always reaching beyond, Oculus navigates the distances between genres in a way that might best be described as "extra-sensory".
This is just the tip of the iceberg, however - the expanse of his vision lies well beyond the studio. While he maintains control and delivers a refined experience for the audience, it is on stage where his natural intensity can be truly reached.