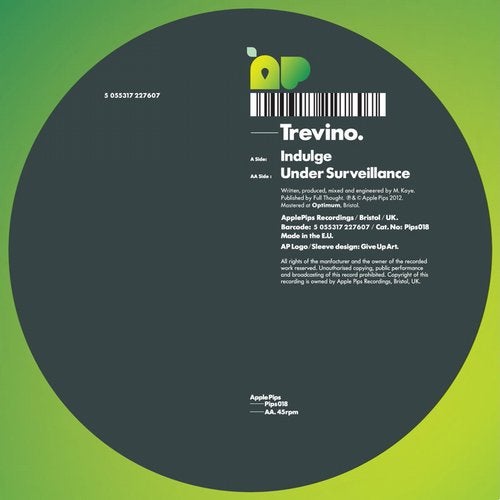 Release Date

2012-09-03

Label

Apple Pips

Catalog

PIPS018
when Trevino said he'd be honoured to put some tracks out on Pips, Appleblim was buzzing...'Indulge' has been a
mainstay of his sets and shows Marcus's versatility...gentle undulating melodic stabs seem to weave together for an age before
hydraulic bursts of wavejumper bass start to fill the gaps. When a tough Detroit electro style stepping rhythm comes in, the
dancefloor is ready for heads down skanking - YES!!
On the flip is an almost lost classic, 'Under Sureveillance', many of the DJs who have been dropping this for a while were chuffed
to see it come out, its dystopian sci-fi stepping rhythm combining with claustrophobic Drexciyan hydropumps spraying all over the
gaff! Proper head nod biz, which hints slightly of Loefah, Mala and Coki trading subplate dubplate wars down in a dark basement
in Shoreditch.....OOF!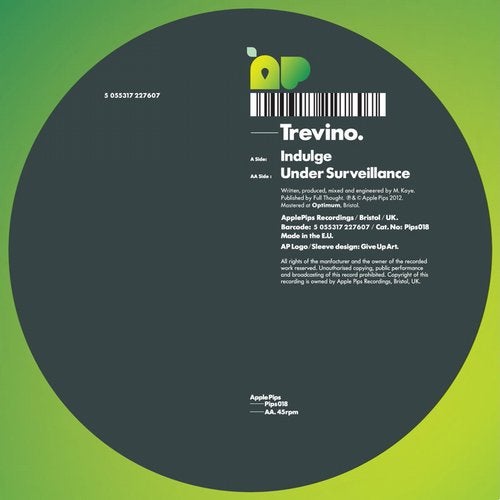 Release
Indulge / Under Surveillance
Release Date

2012-09-03

Label

Apple Pips

Catalog

PIPS018