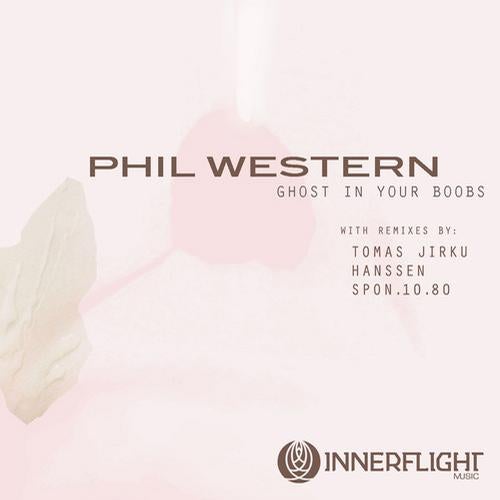 Seattle's Innerflight Music reaches its synthetic tentacles into Vancouver to snatch up Phil Western's latest release, the curiously titled Ghost In Your Boobs. With his footprint on close to forty albums and EPs releases to date, including nine solo albums, Phil Western certainly exemplifies the idea of 'prolific,' especially considering the body of work on his Bandcamp page (philwestern.bandcamp.com). Phil has built a reputation for a complex approach to rhythm and programming with a sense of melody bound together by a deeply psychedelic instinct.
The release leads with 'Ghost In Your Bed' which delivers a breakbeat notion while maintaining Phil's trademark of intricate, interweaving synth melodies. The highly charged rhythm creates a breathing pulse as various lead lines take to the fore while others seamlessly fall into the background. It's like the soundtrack to futuristic mass transit; always moving, always forward. The other original track on the release, 'Boobs,' is characterized by a throbbing techno bass line and ring modulated synth patterns. Layers of sound summon the dance floor into its spell as whispered, drawn out voices and swirling melodies permeate the sound-sphere.
A trio of remixes do a terrific job at drawing out hidden elements from Phil Western's originals. Tomas Jirku (Force Inc, basic_sounds) creates the first of a pair of interpretations of 'Ghost In Your Bed' with an energized techno treatment that takes the layered electronics and adds a raw, almost dirty quality. Innerflight artist Spon.10.80 minimizes things just a bit, with a steady bass-and-drum rhythm anchoring a building swell of sonic electricity. Finally, Seattle's Hansen (one half of Jacob London) delivers an evocative rework of 'Boobs' that stalks at a half-time step while Vangelis-like pads and textures wash over the dance floor in a mesmerizing fashion. All of this makes for a top notch package, highlighting another fine accomplishment from Phil Western and Innerflight Music.

Support from:

Bryan Zentz - Plus8 / Disruptor
"Been a fan of Phil's stuff since the Download days...Thanks!"

Noah Pred - Thoughtless Music
"I never knew Phil had such nice boobs!"

Kevin Chi - Fine Cut Bodies
"The Hanssen and Jirku rmxs are ace, and the originals!"

John Massey - Subspec / From 0-1
"Another great release from Innerflight!!"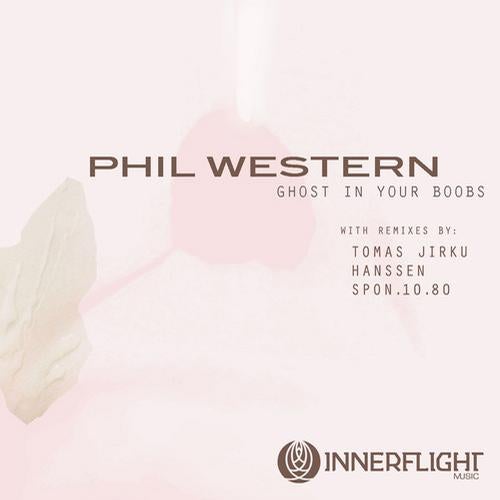 Release
Ghost In Your Boobs