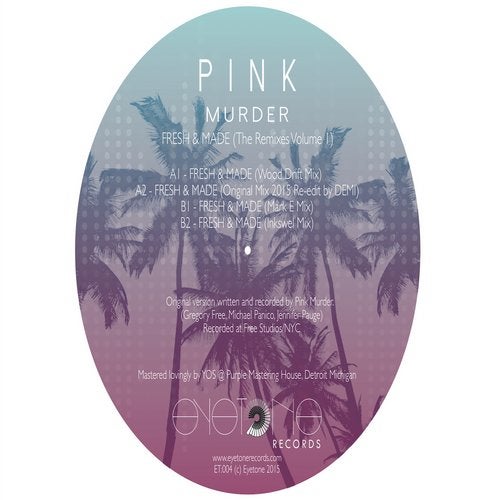 Eyetone present their most ambitious release to date with the introduction of Pink Murder; a synth-pop trio band hailing from Brooklyn/NYC consisting of Michael Panico of Stargazy, Gregory Henits of Folding Legs and Vita and The Woolf's Jennifer Pague.?
Inspired by Brian Eno and David Byrne's pioneering 1981 collaboration of 'My Life in the Bush of Ghosts' and early 80?s period Talking Heads, Pink Murder's music is a tight package of synth-laced island vibes made from live instrumentation and electronic production; intriguingly syncopated and textured, in pure 80's disco pop style, but better. Effortlessly layered on top of it all lies Pague's deliciously watery, almost saccharine and Florence like vocal.

Demi learnt of Pink Murder through Greg Henits and his work on Folding Legs. A quick rapport between the two developed and what followed was a plan to re-release the band's lead single Fresh & Made on Eyetone but with a reconstructed mix of the original by the label owner himself.
Drawing from all his DJ experience to enhance every aspect of their blissfully summer slice of pop music, Fresh and Made sounds better than ever with its delicately extended opening sequence; Carefree it floats, caressing the sky as it is buffeted on calm gusts of rhythm and melody, carrying you with it on a sun-drenched journey to wherever the universe will take it.
Pague's entrance becomes even more prominent in this rework with just the soft drums and eerie pad sitting behind thus giving the song an indie feel before the bass tones then bring back the soul as her vocals soar above you. As the song progresses to its chorus there is one final twist in Demi's edit with the stripped back chorus section which again puts Pague firmly on centre stage.

Demi went about enlisting the services of some of the most talented music producers in the business to create a heavyweight remix package that showcases their talents and brings many a different light to Fresh & Made.
The first volume features the talents of Mark E, Inkswel and a mysterious new production duo from London called Wood Drift.
Mark E provides the listener with a psychedelic workout that makes full use of his studio prowess with a mix that stays steady and engages with subtle modulating undertones. It oozes a sense of balaerica and above all a mystery which will keep you coming back for more.
It's kickback time in the sun with Inkswel's mix. A more light hearted tone is adopted via the use of a retro chord sequence coupled with hip-hop toned beats that crunch through the mix.
Sonic sparks whizz and circulate around the Pink Murder's eerie pads behind a steady thumping kick make for a compelling entrance for Wood Drift.
Pague's entrance in their rework become even more prominent; using her voice to create a sweeping cascade of effects that twist and bend and progress through the mix to create sections which reach epic proportions. Bass tones then bring back the funky as her vocals soar above their groove. The synth lines dance like dragonflies amongst reeds as Pague's vocals and clever hooks crafted by Wood Drift are now put firmly on centre stage.
Like its name, it feels fresh and wonderfully mystique; a gorgeous waft of warmth and well-being; enriching, soothing and ready for the dance floor; This is Wood Drift, And this is Fresh & Made for 2015.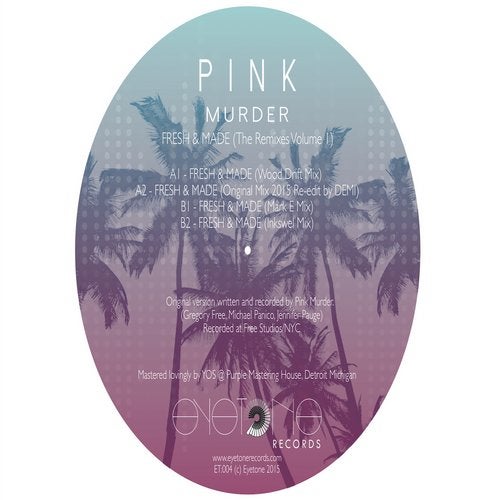 Release
Fresh & Made (Volume 1)