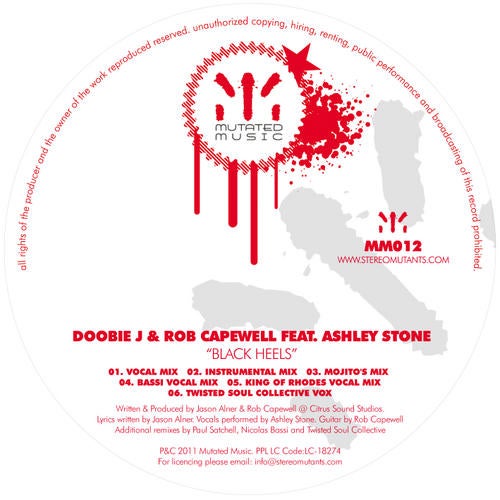 Hot on the heels of the MM011 (Flyingmice ft Nworks 'Nightflight'), we present to you MM012 from top producers Doobie J & Rob Capewell with their brand new song 'Black Heels' featuring Ashley Stone on vocals.
Doobie J's love for house music began sometime around the mid-90s when he brought his first pair of decks in 96 and started throwing legendary house partys.
In 1999 Jason (Doobie J) suffered a spinal cord injury and had to hang his headphones up, never expecting to DJ again but he couldnt give up his passion for house so put all his energy into production and as a result Citrus Sound was born. In 2004 he returned to DJing via mp3 decks, playing in and around London for promoters such as Baldeelox, SO?, SSRadio and Ultrafunk, and now hosts a weekly radio show on www.ssradiouk.com alongside Defected Records, MN2S and DJ Disciple. In September 2006, he graduated from the Academy of Contemporary Music with a degree in music production and built the Citrus Sound collective of musicians & producers whom are dedicated to the housemusic sound.
Doobie J has had releases on Daddyfunk records (Diana Waite, Yvonne Yanney), Miss Moneypennys Music, Music Vision & Badlebox records..

Black Heels is a wonderfully crafted soulful house cut, oozing quality, the original vocal mix has some cool beats, percussion, rhodes, bass, Guitar and a superb vocal by Ashley. On remix duites we have a fantastic array of talent, Twisted Soul collective take the track deeper and aim it straight at the dancefloor with some great synth work. Mojito goes for a tougher soulful workout whilst King of Rhodes & Bassi mellow out the proceedings a little... Nice! Get those girls to click and move those heels on the dancefloor with this corker!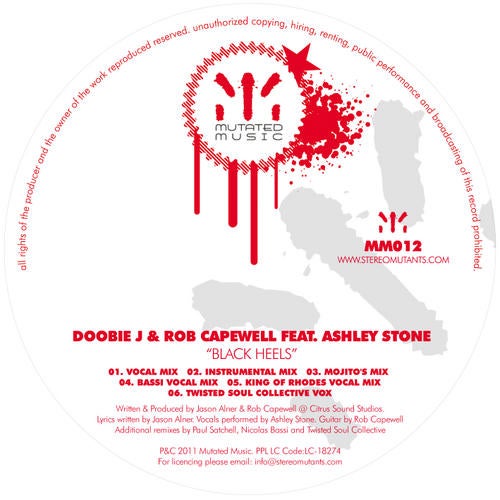 Release
Doobie J & Rob Capewell Ft. Ashley Stone 'Black Heels'