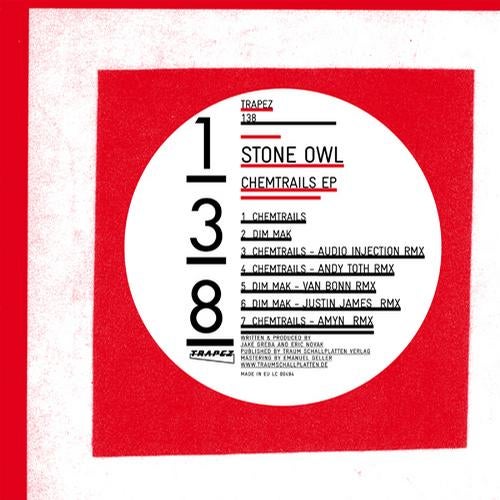 Release Date

2013-01-14

Label

Trapez

Catalog

TRAPEZ138
We have been in contact with Detroits Stone Owl for quite some time now introduced by our Trapez artist Deepchild. So now we are set for a release of the two original tracks: "Chemtrails" and "Dim Mak". Jake Greba and Eric Novak are Stone Owl and have been making music their entire life. They have been involved in touring and playing live as well as Djing all over Detroit (Eric Novak and Jake Greba spent many years touring with separate bands - Jacob as a turntablist, percussionist and horn player, while Eric played primarily bass and synths) as well as being vivid record collectors with numerous visits to Detroits record shop Recordtime and recently started to put things together with a release on Thoughtless music which got great feedback from Richie Hawtin.

Stone Owls two tracks might come as a surprise to Trapez listeners who know the more recent releases of the label, though going back in time a bit, the label has released a broad range of techno and so it seems natural to open up for these two classy tracks."Chemtrails" is a heavy bass driven airy dub techno coloured melodic piece of techno that reflects their position as musicians involved with various genres of music not only techno. You can hardly pigeonhole this track, since it is a genre crossing track... as timeless as a good day spent at the Lake District or a stroll along the seaside. The track expresses a free spirit and does this convincingly... this is just music with a lot of soul.

On the other side there is the second track "Dim Mak". Is this a sound track for the city of Detroit? For anyone who has read about the city and knows about the music scene there, the haunting melodies, guitar chords expressing loneliness and ghost town spirits... could as well be this. Whatever it stands for... we are sure the city has had a great influence on their music as Stone Owl themselves have always expressed.

The remixes on Trapez come from Audio Injection, Andy Toth, Van Bonn, Justin James and AMyn,

Track 3 comes with a remix of Audio Injection aka Truncate. This highly respected American producer from California has a long history of producing raw techno. His heavy techno interpretation can be regarded as being part of a long tradition of American techno including originators like Detroits Robert Hood, constructing a special feel through repetition and layering of sounds in combination with a simplicity and understatement that also generates the magic in his remix of "Chemtrails".

Track 4 features Andy Toths remix of "Chemtrails". His career started with the Detroit Grand Pubahs, who he is a founding member of. His remix shows his top production skills and his open mindedness for music in general as he produces various styles such as hip-hop, RnB as well what is expressed by the term as electronic music. His remix for Trapez incorporates elements of disco house, hip-hop, and adds up to a funky version of what used to be called muzak. This could be a fine tune/remix for all of us who like Metro Area stuff.

Trapez artist Van Bonn has remixed "Dim Mak" in his unique blend of electronica and dub-techno involving a fine acoustic quality still keeping the rougher side of techno.

Justin James who has recorded for M_nus and Sci Tek and more, has also remixed "Dim Mak". His remix could be compared to that of Andy Toth in terms of coolness but is certainly more in a niche with techno and has its mesmerizing surreal moments making it so special.

AMyn has recorded for the American label Mothership and various other labels and has created a a wide and spherical West Coast, dubbed- out track with wonderful melodies that could have been released also on our electronica label Zaubernuss, home of Empyrean and Jessy Somfay.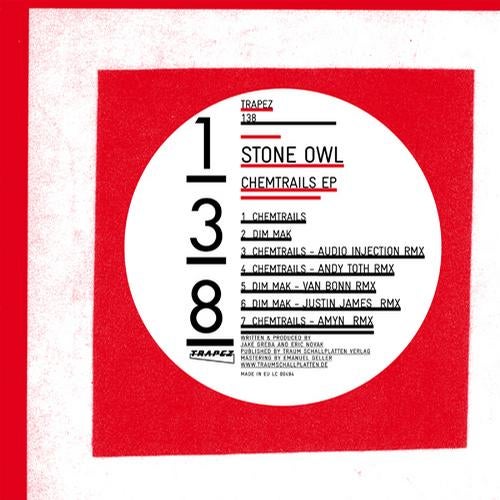 Release
Chemtrails EP
Release Date

2013-01-14

Label

Trapez

Catalog

TRAPEZ138